Department of Thoracic Surgery
Sir Ganga Ram Hospital, New Delhi
Centre for Chest Surgery now looking forward to scale new heights in chest surgical care with humane touch. Our faculty, with over decades' experience in operating on Chest Surgery cases.

What is Chest Surgery?
Chest Surgery encompasses surgical procedures on Lungs, Pleura, Trachea & Bronchi (Wind Pipe), Chest wall, Esophagus (Food pipe), Diaphragm and Mediastinum (Middle of Chest).
Regular Robotic thymectomy for Myasthenia Gravis and Thymoma are performed at SGRH.
We offer the cutting edge Robotic Surgery for various chest, abdominal, vascular & endocrine (Thyroid) diseases routinely at Sir Ganga Ram Hospital.

What are the diseases that we operate on?
Lungs - Cancers & other tumors/ Bronchiectasis/Aspergilloma/ HydatidCysts/ Nodules/Bullae & Blebs (Pneumothorax)/ Injuries
Pleura - Effusion/Empyema/Tumors
Trachea & Bronchus (Wind Pipe) - Injury/Stenosis(Narrowing)/Tumors
Esophagus (Food Pipe) - Narrowing (Acid or Alkali Burn)/Cancer/Other diseases.
Chest Wall - Injury/Tumors
Diaphragm - Hernia
Mediastinum - Thymus Diseases (Myasthenia Gravis, Thymoma)/Posterior Mediastinal Tumor/Cysts, etc.
Trauma - All cases of minor or major Chest Trauma from rib fractures to major injuries.
Thyroid Diseases- both benign and malignant

What are the methods of operation?
Open Thoracotomy

• 15 Cm long incision, Muscles Cut, Ribs Spreading causes Fractures
• More Blood transfusion,
• More Post-operative pain,
• Longer Hospital Stay
• 2-3 months recovery time

VATS (Key-Hole Surgery)
• No Rib Fractures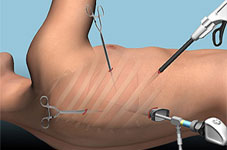 • Less Pain & complications
• Fewer Blood Transfusion
• Shorter Hospital stay
• Better Cosmesis
• Earlier return to work
• Robotic Chest Surgery